GANs for Unsupervised Anomaly Detection
Author: Stephen Welch

In this article we'll discuss why unsupervised learning is so compelling, especially in industries like manufacturing. We'll build and train a Generative Adversarial Network (GAN) on a manufacturing dataset, create an anomaly detection algorithm using our trained GAN, and explore its performance.
The Dream of Unsupervised Learning
It's difficult to fully grasp the scale of modern manufacturing. This year manufacturers will churn out over 50 billion square feet of carpet, more than 100 quintillion transistors, and in excess of one billion toothbrushes. That's over 1900 new toothbrushes every second. Now, let's say you work for one of these manufacturers, and it's your job to ensure that each product that reaches your customers is of good quality.
How do you do it? You could hire an army of inspectors to manually inspect each item, but as you can imagine this can bring huge training and labor challenges, and repeating a task like this day in and day out is just not something we humans are terribly good at.
For the last 30 years or so, a relatively common approach in modern manufacturing is to automate inspection using cameras and computers. Snap a picture of each product, process the pixels in that image using an algorithm to determine if a part is of good quality, and output a signal to factory equipment to automatically remove bad parts from production.
Now, if you have experience with Computer Vision, you may know that things are not always so straightforward. Sure, for some applications, simple computer vision algorithms ran reliably differentiate good from bad product, but for many applications, it's just not so easy to develop algorithms to spot bad products in images.
Fortunately, thanks to deep learning, the state of the art in Computer Vision has advanced dramatically in the last 5-10 years. We can now train deep learning models to solve Computer Vision tasks, such as ImageNet classification, that simply weren't solvable before modern deep neural nets. However, the performance improvement we gain with deep learning does come at a cost. Since deep learning is an aggressively empirical approach - deep neural networks learn basically everything they know from data - our performance will only as good as the data we train on.
In the early days of deep learning this meant good performance could only be had at the cost of very large labeled datasets - the dataset used in the infamous 2012 alexnet paper came from the ImageNet ILSVRC challenge - which contains around one million labeled training images.
And while we've made strong progress as a community around required dataset size, we've made significantly less progress on the other big deep learning requirement: labels. Today, most production-grade deep learning models use supervised learning, meaning these models need labeled data to learn anything.
Labeling is such a pain point today that we see a plethora of new companies popping up offering labeling tools and services. Labeling can be particularly difficult in the manufacturing industry, where the labeling questions become more nuanced and can require significant domain expertise (e.g. does the shift in color across the body of this transistor indicate poor thermal performance?)
Alright, you probably know where we're going here.
What if…we didn't have to label?
What if we could just hand our deep learning models a bunch of images, and let it sort out what's what? As you may already know, this is exactly the idea behind our topic today: unsupervised learning.
But like, how?
So how the heck to we get a deep learning algorithm to learn to identify bad products without providing it any examples explicitly labeled bad?
There's quite a few approaches to unsupervised learning out there, for our discussion today, let's hone in on a terrific (and underrated) 2019 paper from researchers at the Machine Vision company MVTec. The paper introduces the MVTec AD dataset we'll be using, and importantly explores a number of state of the art unsupervised anomaly detection approaches on the dataset.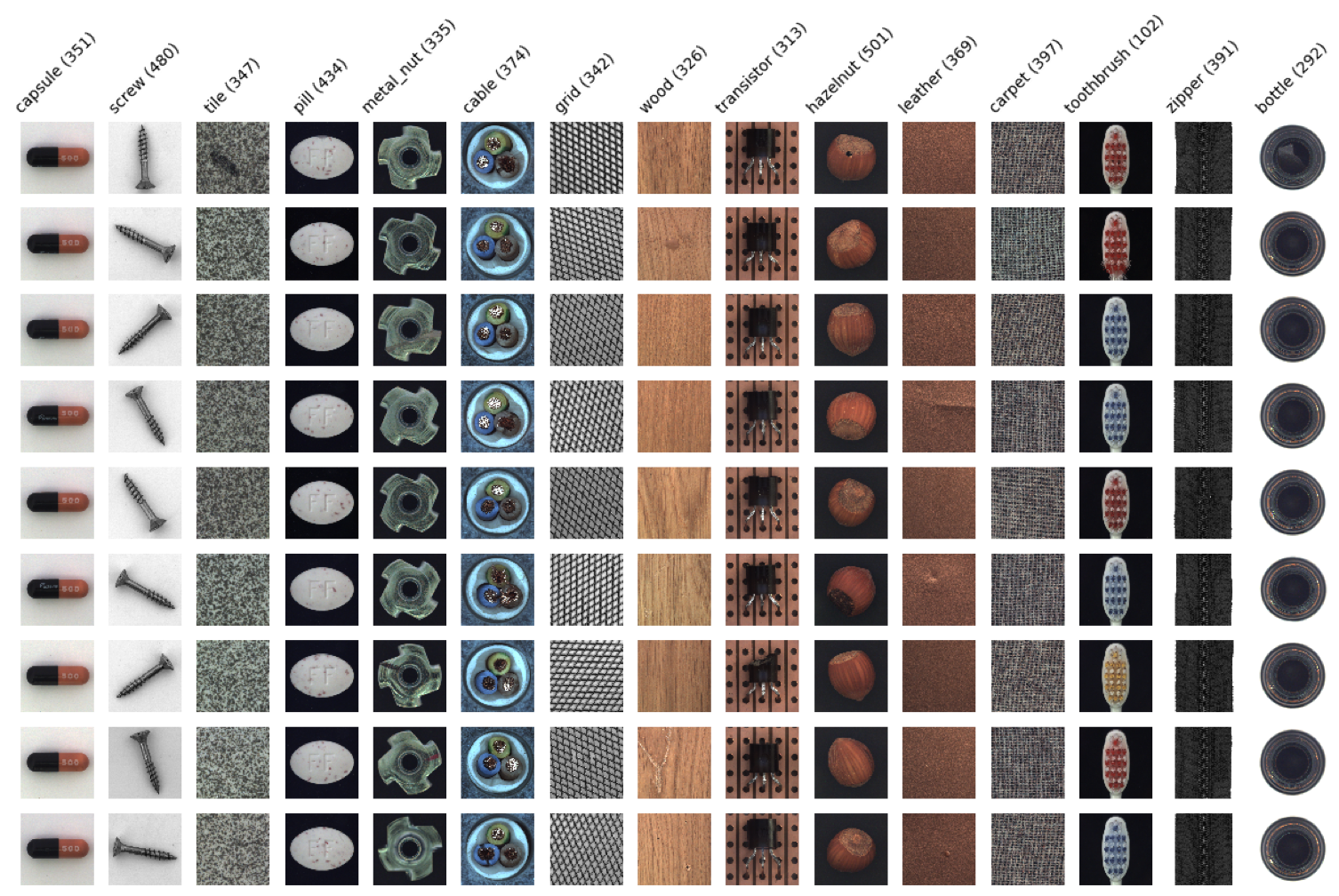 At the core of these approaches is a simple plan of attack. Provide a learning algorithm with a sample of images of good products, let it learn something about the distribution or typical appearance of these good products, and then use this acquired knowledge to automatically detect if a new image has wandered too far from that typical appearance or distribution, and if it has, flag it as anomalous. Easy right?
Now, you may be raising your eye brow here, and thinking something like "if we're providing known good examples, is this really an unsupervised approach?" This is a fair point, and we sometimes hear approaches like these called "one class learning" - I really prefer this name, because it helps differentiate these approaches from fully unsupervised approaches like feature-space clustering, where we would provide our unsupervised learner with samples from many classes to learn from, not just the good samples.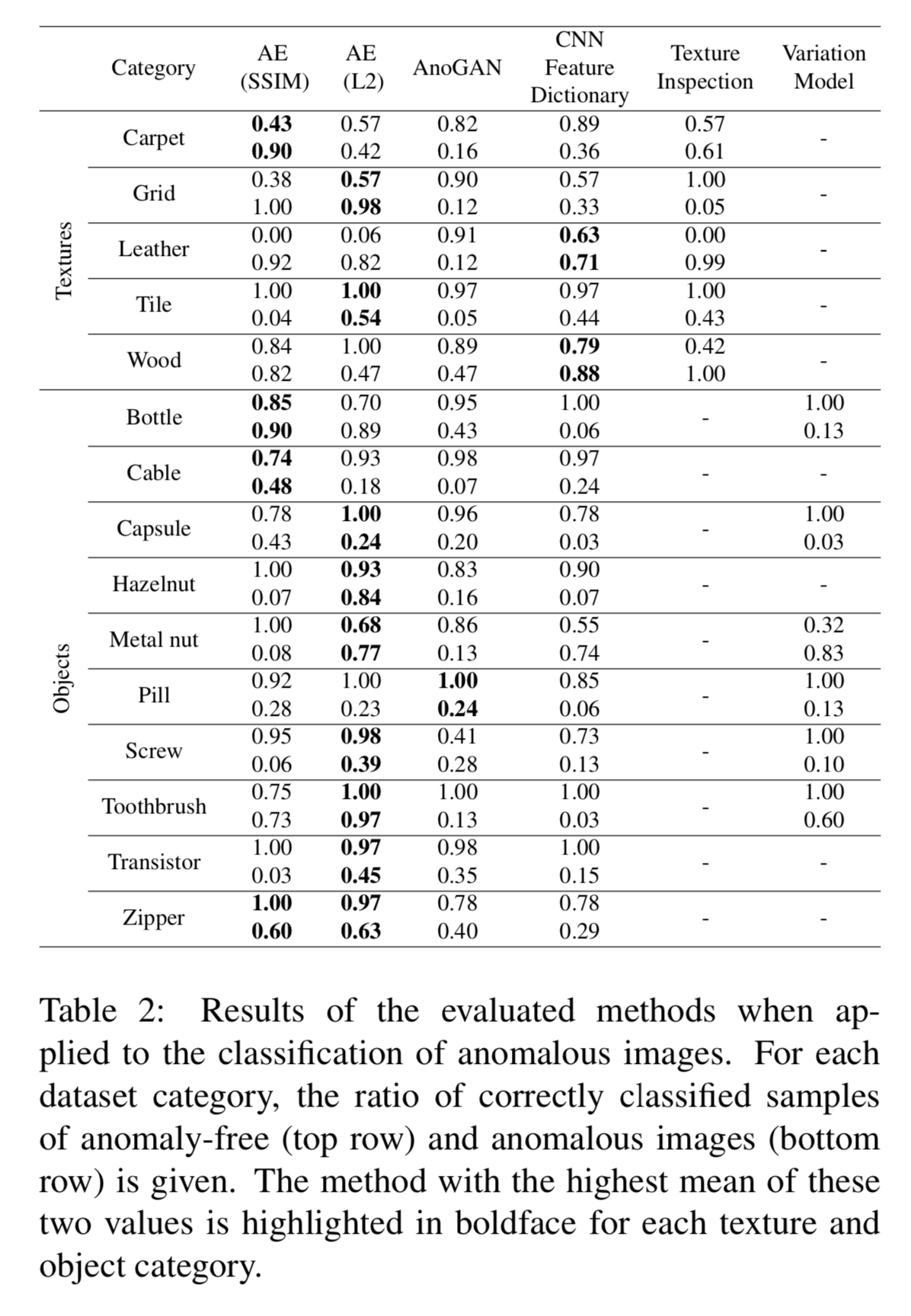 Alright - now all we need to do is pick an approach, and we're off to the races. As we can see in figure 2, the authors explore 6 different methods, and the autoencoders (AE) perform the best on average. Autoencoders are one of the most mature unsupervised technique in deep learning for computer vision, and as we see here, can offer very respectable performance.
Today we'll explore a newer approach to anomaly detection - Generative Adversarial Networks (GANs). GANs use a super interesting training mechanism where two neural networks compete in a game to improve overall performance, and although GANs do not deliver the top performance of the methods we see here, GANs are a hot research topic these days, and performance is quickly increasing, meaning that that figure 2 may look quite different in a few years.
The Data
Before we start training our GAN, let's have a quick look at our data. As you can see in figure 1, the MVTec dataset includes examples from Y different types of products. For each product type, the dataset includes a few hundred good examples, and tens of examples of different types of defects. The images are relatively high resolution, around 1000 by 1000 pixels.
For labels, we're given the class of each image, and a segmentation mask, as shown as colored regions in the lower portion of Figure 3. These masks indicate the location of each defect in our images.

As a deep learning practitioner working in manufacturing, I was really excited to see this dataset come out - you just don't see public datasets like this our industry - this is really something I hope we see more of.